''What do you think is supposed to happen in the woods?''

A grieving couple retreats to their cabin in the woods, hoping to repair their broken hearts and troubled marriage. But nature takes its course and things go from bad to worse.
Willem Dafoe
: He
Charlotte Gainsbourg
: She
Well, well, well...Where to begin with
Antichrist
? I went into the cinema expecting something totally bizarre, and what I viewed certainly didn't disappoint in the slightest.
Antichrist
focuses on a couple, whom suffer a terrible tragedy. We experience sequences which lead up to their son dying, and then the husband being a doctor, tries to console his wife out of her grieving state of mind. Sometimes black and white is cleverly used throughout the film which
intensifies
the mood and feel of the story.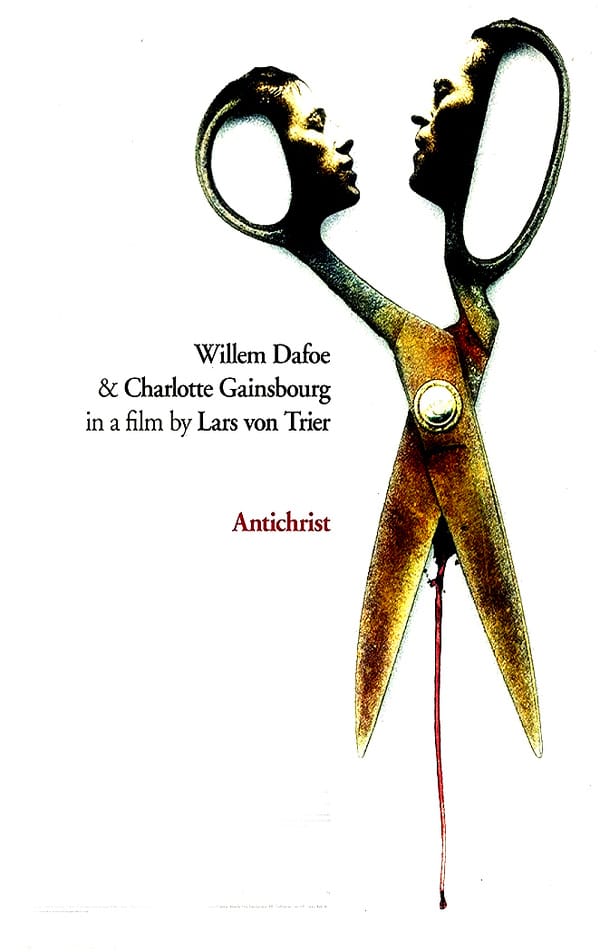 Quite intelligently,
Antichrist
divides itself into chapters, each chapter representing an emotional reference of pain or sadness linked with the couple, and of the inevitable evil emerging forth from the truth coming out into the open gradually.
I find it fascinating that the film has a minimal cast, I mean Willem Dafoe and Charlotte Gainsbourg are the only two main roles in the entire film, and their acting and performances really are seriously incredible and beyond words. The second half of
Antichrist
really descends into shock and disbelief and will have you on the edge of your seat.
The director and writer of
Antichrist
Lars Von Trier whom also worked on
Dancer in the Dark
, really expresses himself here; His emotions and mind come forth into a glorious palette of film. He really succeeds in getting into the dark recesses of where humanity can go, the sexual desire of man and woman, the lustful and destructive nature of our blackest natures.
Antichrist
also uses many slow sequences, so artistically and meaningful its actually sometimes like watching a piece of moving art. Scenes in which a deer, a fox and a bird at different times provide symbolic references to religious pagan significance, dating back to the middle ages. The more we discover in
Antichrist
, the more we find out about the psyche of the man and more importantly the woman too. The forest Eden a playground for evil, the devil and Satan supposedly being in nature. Her research into the history of the woods proves grim, as her deranged thinking of evil in women emerges.
Overall,
Antichrist
is a shocking psychological journey evolving into one of insanity, evil and
chaos
. I mean, a talking fox, the stabbing of a leg with a lethal weight, and the awkward scene of scissors and blood is sometimes so hard to watch, you cannot find yourself looking away. The revelations and answers
Antichrist
produces satisfy and the ending will provide debate and discussion for years to come. Pleasingly this is a story that requires deep thought, deep patience and an open mind. I love the fact
Antichrist
will definitely split people and critics down the middle, and when a film can make you either love or hate it, then it definitely should be considered and unprecedented triumph.
''A crying woman is a scheming woman.''