''It's figuring us out faster than we're figuring it out.''

A thriller centered on the threat posed by a deadly disease and an international team of doctors contracted by the CDC to deal with the outbreak.
Gwyneth Paltrow
: Beth Emhoff
Steven Soderbergh always captures detail and rapture within his works, whether concerning
Che
or
Traffic
or
Erin Brockovich
, he manages to successfully draw in audiences with a penchant for immersing us in intelligent storylines and using sound and visuals to keep us gripped in a spidery web of tension. His latest effort
Contagion
is another example of finesse and professionalism in film with a large range at his disposal. Soderbergh knows nothing spreads fear so indifferently and thus is more relevant; A deadly virus spreading on a global scale with researchers and scientists in a race against time to stop it.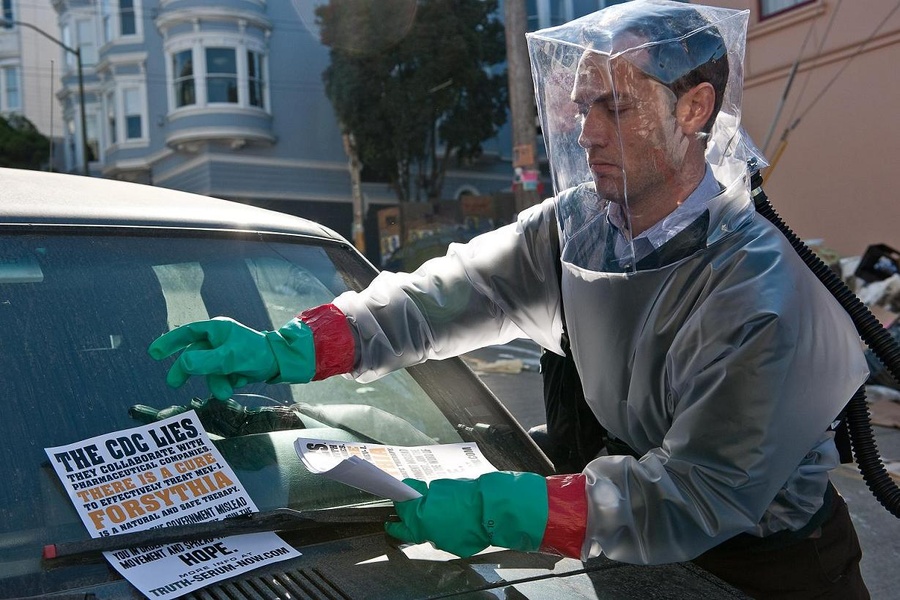 The winning factors of
Contagion
range from a convincing cast, a tense soundtrack and a mechanical, mesmerising cold beat that haunts us, toys with us. Then we have a story which is so close to the truth it has that cringe factor thus forcing us to think twice about touching anything, using public transport, going near the sick, and even makes us fear for our loved ones health.
We have a worldy, unfaithful wife played by Gwyneth Paltrow, a number of doctors played by Kate Winslet, Lawrence Fishburne, Marion Cotillard and we have a seemingly prophetic yet meddlesome journalist played by Jude Law and a greiving father who loses his wife and son played with emotional valor by Matt Damon.
The film has a very realistic, Western glow about it. It explores human nature, human desperation, emotions, attitudes, different personalites and anarchaic chaos let lose when people are given no other alternatives in the face of dying from the virus.
Contagion
also shows us animal experimentation, the processes involved to contain such a deadly threat, possible innoculations, new vaccines, the hunt for a cure...
When we see biohazard teams and the bodies piling up
28 Weeks Later
begins to come to mind or some of the scenes from
V for Vendetta
.
Contagion
asks us questions and toys with us to makes us ask our own questions: Has this happened already? How would we deal with it?
What can protect us from Nature?
The answer is a combination of our ability to react and predict what will happen and to give an appropriate response. Easier said than done.
Steven Soderbergh's
Contagion
is a race against time and an imagining of a global epedemic transpiring. A deadly indifferent virus which wipes out all regardless of age, race, or gender.
Cleverly the tension, the emotion is captured effortlessly when Matt Damon is checking his wife's camera. Seeing pictures of her, unlike at the Hospital where the realisation of her death is yet to sink in, we come to that point with the camera, and Matt just breaks down. We share his pain and Soderbergh capitalises and tugs on our heart strings with playful poignancy.
Contagion
leaves us with a taunting finish concerning the origin of the virus. It makes us consider vegetarianism and to ponder where our food comes from and who is making it for us. Have you washed your hands? I can't stress how important hygiene is and after watching this you will take it more seriously, if you didn't before.
''The average person touches their face three to five times every waking minute. In between that we're touching door knobs, water fountains, and each other.''