''Wretched Faust, why do you seek death? You have not yet lived!''

God and Satan war over earth; to settle things, they wager on the soul of Faust, a learned and prayerful alchemist...
Gösta Ekman
: Faust
Emil Jannings
: Mephisto
Faust
(German title:
Faust - Eine deutsche Volkssage
) is a silent film produced in 1926 by UFA, directed by F.W. Murnau, starring Gösta Ekman as Faust, Emil Jannings as Mephisto, Camilla Horn as Gretchen/Marguerite, Frida Richard as her mother, Wilhelm Dieterle as her brother and Yvette Guilbert as Marthe Schwerdtlein, her aunt. Murnau's film draws on older traditions of the legendary tale of Faust as well as on Goethe's classic version. UFA wanted Ludwig Berger to direct
Faust
, as Murnau was engaged with Variety; Murnau pressured the producer and, backed by Jannings, eventually persuaded Erich Pommer to let him direct the movie.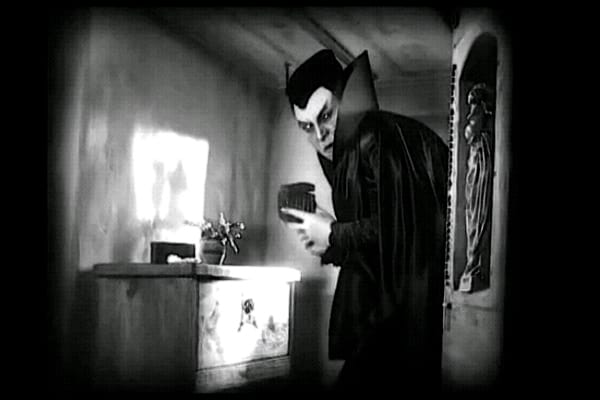 Director F.W. Murnau is best known for
Nosferatu, eine Symphonie des Grauens
, his chilling 1922 vampire film, inspired by Bram Stoker's famous novel.
However, his equally impressive
Faust
is often overlooked, despite some remarkable visuals, solid acting, a truly sinister villain, and an epic tale of love, loss, good and evil. The story concerns Faust (Gösta Ekman), an old and disheartened alchemist who forms a pact with Satan's evil demon, Mephisto (Emil Jannings). As God and the Devil wage a war over Earth, the two opposing powers reach a tentative agreement: The entire fate of Mankind will rest upon the soul of Faust, who must redeem himself from his selfish deeds before the story is complete.
''Death sets all men free!''

The film contains many memorable images and special effects, intricately woven shades of transparency and darkness. Particularly striking is the sequence in which the giant, horned and black-winged figure of Mephisto (Jannings) hovers over a town sowing the seeds of plague amongst the human inhabitants.
A variation of advanced optical trickery and vibrant wondrous costumes, as well as sets, makes this film an absolute marvel to behold, with Murnau employing every known element – fire, wind, smoke, lightning – to help capture the film's sinister, themes of darkness and desperation. Double exposure, in which a piece of film is exposed twice to two different images, is used extremely effectively, being an integral component in many of the visual effect sequences.
It's often difficult to judge performances in a silent film, but I've certainly revelled in a particularly positive aptitude towards the acting talent presiding over
Faust.
It must be stated that the glorious adaptability and layered performance by Gösta Ekman, whose incarnation, given limitless evil control, is transformed from a withered old man to a handsome youth. Despite my impression that two different actors had been used, it seems that Ekman convincingly portrayed both the old and young man, which is a credit to both the actor and Murnau's make-up department (chiefly, Waldemar Jabs). Emil Jannings plays Mephisto with a sort of mysterious slyness, always thinking ahead of the game and always upto michief and menacing interference. The young actress Camilla Horn as Gretchen – the woman with whom Faust falls in love – truly is the picturesque example of tenderness and beauty; Her acting is energetically mirrored by her afixiated innocence and graceful poise.
She certainly shows audiences changeability with some very raw emotions in the scene's final act, when her forbidden romance with Faust sends her life in a downward spiral.
Faust
was F.W. Murnau's final film in Germany, his next project being the famous, loved American romance,
Sunrise: A Song of Two Humans
(1927).
At the time, the film was the most expensive ever made by the German studio, UFA (Universum Film AG), though it would be surpassed the following year by Fritz Lang's classic science-fiction epic,
Metropolis.
Notably, there were five substantially different versions of
Faust
produced, several of these by the director himself: these include a German original version, a French version, a late German version, a bilingual version for European audiences, and an American cut compiled by Murnau especially for MGM in July 1926. Each of these altered particular scenes and camera angles, and often included material that would be more relevant to the target cultural audience (for example, the US version reportedly contains a joke about the American Prohibition era).
At the beating core of
Faust
is a tragic romance between Faust and Gretchen. I felt that the scenes when Faust is trying to coax Gretchen into loving him were the more subtle, detailed instances of the story and workings the film had to offer. In fact,
Faust
at times juggles within itself multiple genres and ways of evolving storytelling to new heights of betterment and wonderment. F.W. Murnau's
Faust
really is one of the jewels of the 1920s silent horror movement, and surely ahead of it's time.
In fact not many other films or stories following on to present day have managed to capture something so entwined with both film and telling a story.
We probably won't see anything like this again, after the golden age of silent cinema,and it's artistic vein of conveying emotion, titles and moving images. This is unprecedented and unrivalled, withstanding eternity and standing the test of time.
''The Word that wings joyfully throughout the Universe, The Word that appeases every pain and grief, The Word that expiates all human guilt, The Eternal Word...Dost thou not know it?''