''I'm going to paraphrase Thoreau here...rather than love, than money, than faith, than fame, than fairness... give me truth.''

After graduating from Emory University, top student and athlete Christopher McCandless abandons his possessions, gives his entire $24,000 savings account to charity and hitchhikes to Alaska to live in the wilderness. Along the way, Christopher encounters a series of characters that shape his life.
Emile Hirsch
: Chris McCandless
Into The Wild
is a powerful, emotional journey of a young, spirited man. A story and film inspired from a true events, shared with the World thanks to Sean Penn's directorial passions and patience.
Sean Penn waited 10 years to make the film to make sure he had the approval from the McCandless family. This is powerful innovative film making. This is
Into The Wild
; Chris McCandless's
enlightened
yet tragic aspiration.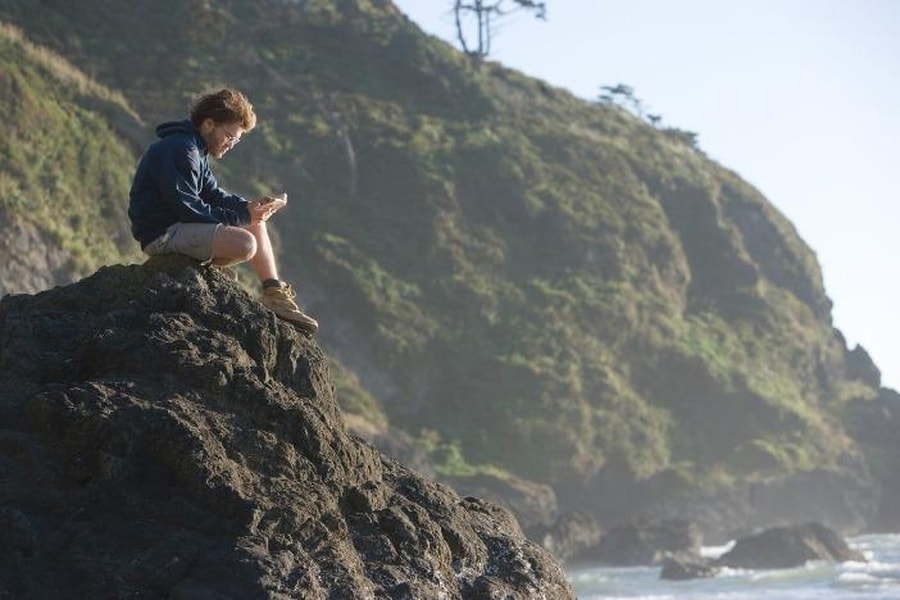 So what sets
Into The Wild
into cinematic history? What is utterly moving and soul falteringly effecting to audiences?
The soundtrack with it's soothing gentle tones of grace play with the visuals in an almost discordant, playful temperament of beauty.
Original Music by Michael Brook, Kaki King, Eddie Vedder is just mind blowingly effective in melting the emotions. To top it off the cinematography by
Eric Gautier whom was also director of photography, delivers work reminiscent of beauty; The epic vastness of the wilderness, the sprawling icy regions, the huge city scapes, simply take your breath everytime you watch. It's majestic, it's wow, it's freedom.
The cast is of course the finest assemble possible for a story of this magnitude, for a film inspired by such a turbulent truth, a life of a deep, inspiring individual unafraid to go against the grain, against the imprisonment society sets for it's materialist, brain washed pawns.
Marcia Gay Harden, William Hurt, Jena Malone, Brian H. Dierker, Catherine Keener, Vince Vaughn, Kristen Stewart and of course Hal Holbrook as Ron Franz all deliver believable, caring love for the characters they portray on screen.
It is of course Emile Hirsch playing Chris McCandless who gives a performance that gives the film it's energy, it's vibrance, and it's unwavering determination and eternal soul.
As Chris McCandless gives all his life savings away to Oxfam, all $25,000 we watch. As Chris cuts up all his cards, and loses his car in a storm, we watch. As Chris McCandless adopts a new person of his own creation, he becomes Alexander Supertramp, and we watch on...in
awe
.
This is a young, intelligent man whom has graduated among the top of his university. Yet this is also a young bright man whom realizes the truth of the World and it's captivity. His rich, conservative parents obsessed with material wealth blind to the suffering and nature of their own children.
Into the Wild
is liberty.
Into The Wild
is realization.
Into the Wild
is truly about a prophet ahead of his time in terms of thinking and relevance who tragically died for what he believed in, who wanted to be one with nature, and one with himself.
Into the Wild
coaxes us into remembering what the purpose of life is. How meaningless jobs, money, politics, business, and materialism can be. How we can be a prisoner without even realizing the situation. To be free is not as simple as it sounds, the truth is not as easy to understand or for some incomprehensible. This is not to be mistaken for hippy induced pragmatic wheel spinning, this is serious thinking for a better tomorrow. This is breaking away from the system and being truly, pure and independent from the chains of commercial imprisonment. A cage of numbers and soulless fundamentalism; In essence the love of wealth, the system, and the hive collective of zombie resembling puppets.
Overall,
Into the Wild
is a truly blessed envisioning that resounds in ones being. When Ron offers to adopt Alexander, you will cry in appreciation of this poor fellow man. When the parents realize he may not be coming back it is heart crushingly hopeless. When you watch
Into the Wild
you will guaranteed be effected by the ordeal, the pleasure and enduring spirit of one who stood up for what he believed in. An unwavering light in the face of oppression and darkness, unblemished by a lying, faceless world obsessed with the material constriction.
Into the Wild
questions everything, provides answers if interpreted in the correct fashion. This is a taste of the real reason for existence, this is truly a
testament
and awe inspiring journey of a prophet.
''The sea's only gifts are harsh blows, and occasionally the chance to feel strong. Now I don't know much about the sea, but I do know that that's the way it is here. And I also know how important it is in life not necessarily to be strong but to feel strong. To measure yourself at least once. To find yourself at least once in the most ancient of human conditions. Facing the blind death stone alone, with nothing to help you but your hands and your own head.''