''When you love someone, you've gotta trust them. There's no other way. You've got to give them the key to everything that's yours. Otherwise, what's the point? And for a while, I believed, that's the kind of love I had.''

A truly classic film telling the story of the rise and fall of a bookie. Greed, deception, money, power, and murder occur between two mobster best friends and a trophy wife over a gambling empire.
Robert De Niro
: Sam 'Ace' Rothstein
Sharon Stone
: Ginger McKenna
Joe Pesci
: Nicky Santoro
Casino
released 1995, from movie maestro Martin Scorsese, compared to
GoodFellas
, stands on it's own, in terms of cult classic status.
A detailed, beautifully narrated 3 hour spectacle, containing no unnecessary scenes to slow it down, never failing at any opportunity to fascinate and entertain us.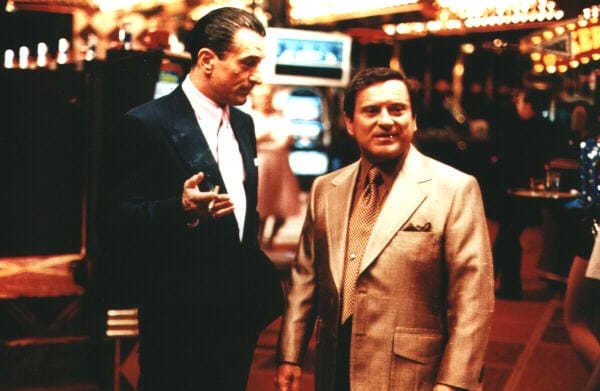 Cue Sam "Ace" Rothstein, a brilliant sports handicapper who takes his talents to Las Vegas. Ace's uncommon expertise and success with making the world of gambling pay off naturally attracts the wrong type of people in the likes of old home-town friend, tied closely with the Mob, Nicky (Joe Pesci), and the romantic object of his affection Ginger (Sharon Stone). Sam unfortunately takes a gamble on these two and the results don't pay off as well as he would have liked. Neither Ace or Nicky are a match for Ginger, whom gets in between them and ultimately plays them both for a time.
Ultimately everyone loses...Or so Scorsese would have you believe.
''Running a casino is like robbing a bank with no cops around. For guys like me, Las Vegas washes away your sins. It's like a morality car wash. In the casino, the cardinal rule is to keep them playing and to keep them coming back. The longer they play, the more they lose, and in the end, we get it all.''

One of the film's remarkable achievements is how expertly the story is told, and Scorsese's ability to cram so many rich details into such a short amount of screen time.
An example of this is where DeNiro's character catches on to a couple of card players using a sophisticated cheating technique so they can communicate with one another, morse-code style to inform each other of their opponents' playing cards which they can see from opposing tables. The way Scorsese can illustrate such rich details during a brief montage showing how the players are able to incorporate this scam to the beat of the Jeff Beck Group's
"I Ain't Superstitious"
is like watching a master teaching learners and amateurs, showing how it's done for budding film-makers. This is how you make a film and tell a story.
Casino
also of course features fine performances from the cast - many of whom also actually happened to appear in
GoodFellas
. Watch for a clever nod to Frank Vincent's "Billy Batts" role in
GoodFellas
towards the film's conclusion.
A masterpiece in direction, film editing, and storytelling, Casino contains scenes which may be considered by some as excessively violent, and must also hold some sort of record for the amount of
"F"
words ever said in a film. Literally every line of dialogue contains the word or variations of swearing and cursing. The easily offended may want to steer clear but then again, you will be missing out.
Certainly one of the great films in the Scorsese canon which makes for a fine companion piece for his groundbreaking classic GoodFellas. I hope Scorsese makes one final mobster film with DeNiro and Pesci.
Casino
proves that, as far these three are concerned, you can't get much better of a combination as far as films go. Should my wish come true, hopefully Mr. Scorsese can find another classic rock song to put on the soundtrack to fit the mood of the story besides
"Gimme Shelter"
- also featured prominently in
GoodFellas
and
The Departed
.
Taxi Driver
and
Raging Bull
showed Scorsese is the master of film making,
Casino
,
The Departed
and
Shutter Island
show he still is.
''A lot of holes in the desert, and a lot of problems are buried in those holes. But you gotta do it right. I mean, you gotta have the hole already dug before you show up with a package in the trunk. Otherwise, you're talking about a half-hour to forty-five minutes worth of digging. And who knows who's gonna come along in that time? Pretty soon, you gotta dig a few more holes. You could be there all fuckin' night.''