''War, poverty, cruelty, unnecessary violence. I understand human emotions, although I do not feel them myself.''

A team of explorers discover a clue to the origins of mankind on Earth, leading them on a journey to the darkest corners of the universe. There, they must fight a terrifying battle to save the future of the human race.
Michael Fassbender
: David
After many years the masterful film visionary Ridley Scott has returned to where some of his original talents for capturing storytelling, inspiration and escapism originally lay: Science fiction.
Upon seeing his latest work I was impressed at the detail, the pace, the sheer audacity he displays in his end result. It's mesmerising and upon a personal note it makes a striking impression not just with it's immense cast and dazzling effects but with the most important aspects: The art and storytelling entwined in this particular medium.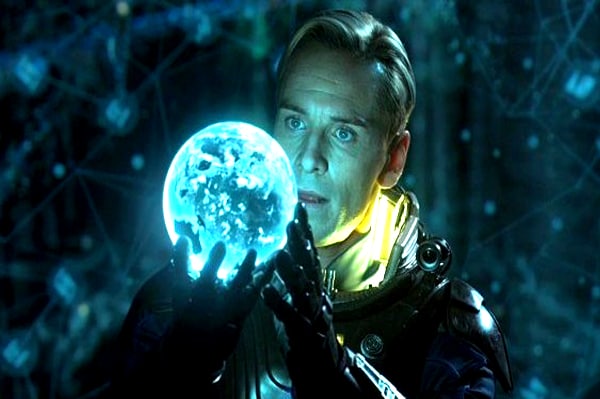 It hits home from the addictive cast, one of my favourites from legendary new comer Micheal Fassbender to energetic chameleonic Guy Pearce injecting the film with pure professional believability and talent.
Prometheus
is a science fiction piece. It is also a philosophical study capturing the fragility of human nature and our physical existence.
The film whispered to me that Weyland offer,
''If you'll indulge me, I'd like to change the world.''
We are insects becoming Godly within a rather large spherical universe where discovery and understanding collide at every moment. Nothing seems to be certain but changing... What I am definitely certain of, when it comes to
Prometheus
is that the film stimulates us as well as entertains the audience. It gives us something deeper for our minds to feed upon. Gives us questions to play around with and then smacks us with a few answers.
''T.E. Lawrence, eponymously of Arabia
but very much an Englishman,
favoured pinching a burning match between his fingers
to put it out.

When asked by his colleague William Potter
to reveal his trick,
how is it he effectively extinguished the flame
without hurting himself whatsoever,
Lawrence just smiled and said,

"The trick, Potter, is not minding it hurts."

The fire that danced at the end
of that match was a gift from the Titan Prometheus,
a gift that he stole from the gods.
And Prometheus was caught,
and brought to justice for his theft.
The gods, well, you might say they overreacted a little.
The poor man was tied to a rock,
as an eagle ripped through his belly and ate his liver over and over,
day after day, ad infinitum.
All because he gave us fire.
Our first true piece of technology, fire...''

At times the nostalgia elevates back to the days when Ridley was giving us
Alien
. It almost feels like being back home with Ripley with the female heroine Noomi Rapace playing Elizabeth Shaw. She makes the role faceted.
So we have a historical, prequel feel to proceedings while we are taken somewhere new and exciting which explores our origins. It is an imaginative game in the fashion of HG Wells,
''What if?''
, regarding where we came from or where we are going.
Our creator: Was it an accident? Would they regard us as inferior? Would an extraterrestrial presence be hostile or peaceful? The truth is both possibilities are quite obviously correct.
The other interesting study and insight is with artifical intelligence and the robotic android David played by Micheal Fassbender. What would our creation think or feel or do if put in the same situation as us? Would our creation be disappointed to find out the limitations and flaws contained in its creator. Of course it would. How this being would react to such discoveries and revelations seems to faintly echo the days of
Blade Runner
.
You can almost hear,
''Revel in your time...''
and when we come to the ageing Wayland played by Pearce we have the stabs at mortality and our quest to either accept it or overcome it. Is death avoidable?
Are we talking about the physical or metaphysical?
Or is it something which remains unknowable until we arrive at the destination? My answer is the journey is what matters. If you spend all your time wondering about the destination how can you enjoy the journey?
Prometheus
is a very enjoyable, thought provoking film. However you take it or experience it, whether the action or effects or horror elements are your cup of tea. Whether you value the storytelling or being transported to another time and place which in ways mirrors our own World, whether you enjoy asking questions and not being able to answer every single one. Despite all this to contemplate if you want a piece of deeper stimulation at a pace which isn't in a hurry, where the end is a beginning of sorts,
Prometheus
is worth the ride and is waiting for you.
Ridley Scott returns from his historical pieces and gives us his science fiction taste of a brave new world. The best is surely to come.
''How far would you go to get your answers?''