''You gotta be more careful, cause I can't lose you again. Not like that.''

An accidental cross-time radio link connects father and son across 30 years. The son tries to save his father's life, but then must fix the consequences.
Dennis Quaid
: Frank Sullivan
James Caviezel
: John Sullivan
Gregory Hoblit directs a thrilling time travel puzzler in what could be one of the surprises and under-rated hits in film from 2000.
Frequency
tunes into a tried and tested formula, utilizing storytelling mixed with twists, equalling roller coaster entertainment using suspense and excitement.
Toby Emmerich whom was behind the writing succeeds in delivering a compelling tale along with Hoblit's humble dosage of directing and bringing everything together in the film's making.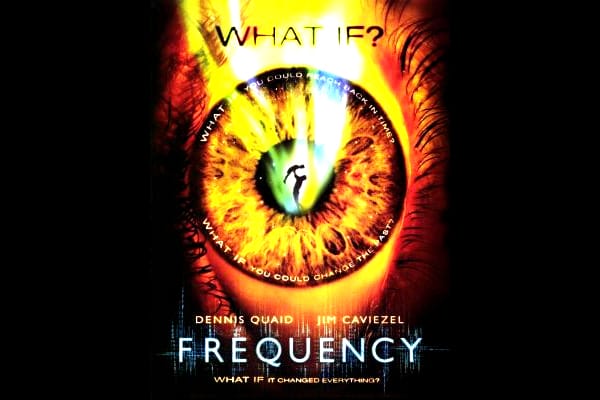 My love for the film extends a hand and eye due to the time travel element and the fact
Frequency
opens up possibilities regarding changing events and memories through cause and effect.
The cast doesn't hinder the experience yet elevates the professional gloss of quality which hovers elegantly over the proceedings, reminiscent to the Aurora Borealis painted upon the sky above the town.
Dennis Quaid and James Caviezel play father and son, Frank Sullivan and John Sullivan, they play the parts so well you nearly shed a tear for them a few times due to the emotional scenes they end up owning. Exceptional performances help the story reach a peak perhaps untouchable to anything outside it's walls.
We have Shawn Doyle playing the cop Jack Shepard, whom is a serial killer villain who gets another chance to fulfil his killing spree. Just a thought, Jack Shepard was a character from
Lost
yet is it coincidence he appears in another carnation in 2000? What's more mysterious is the fact another member from the series is present.
Yes, Elizabeth Mitchell as Julia 'Jules' Sullivan, is the character which connects the time travel series again. The character Julia is a formula abiding cross junction for certain plot contrivances, in which twists happen prior to present factors.
Andre Braugher(
The Mist
), Noah Emmerich, and Melissa Errico also make fine additions to the casting, in turn giving support and fine brush strokes to the story with graceful acting and poise.
''We all have skeletons in the closet, we just don't know when they're gonna pop up and bite us in the ass. Huh, Jack? You changed your MO, 'cause if they knew your mother was the Nightingale, they would have looked at the family. They would have looked at you.''

What's also compelling about
Frequency
is the music by Michael Kamen combining simple cinematography by Alar Kivilo, causing a rather sensuous effect deserving praise and attention in equal measures.
Frequency
is a straight forward story yet not a straight forward story. The film and story is something of a paradox regarding changing time, bordering upon the questions relating to parallel time-lines and dimensions.
So why such a high rating from me? Well,
Frequency
always leaves me satisfied and pondering, while gives audiences something to debate about. The whimsical way it sets about achieving it's goal isn't one of self glorification but one where love and family feature as top priorities, and where helping an individual, even an unknown stranger can set about a negative ripple.
The rain and beauty are captured well, the relationship regarding friends and family is achieved, while the bad guy of a story can sometimes be a cop.
It plays out very much like a thriller but with a Sci-Fi edge sharpened upon it's tip.
Frequency
illuminates itself and the audiences it captivates with an endearing boldness and daring, a creative writing and combination of genres coming together for the best possible results.
Frequency
isn't the best film in the World,nor is it one garnering numerous Awards, yet it is a film which entertains and causes debate, it has an addictive streak which keeps audiences coming back for seconds, if not thirds.
This is definitely a little surprise from 2000 and one which deserves to be watched and enjoyed.
''I want you to remember this word, okay? It's kind of like a code word: Yahoo. Can you remember that?''